Located in the Fermont Iron Ore District (FIOD) of eastern Québec, centered 60 km southwest of the town of Fermont and 250 km north of the port town of Sept-Îles
A total resource of 3.4 billion tonnes of which 1.2 billion tonnes (total in-pit) outlined in the Fire Lake North East Pit and West Pit are currently in Feasibility Study
Preliminary Feasibility Study (PFS) published in February 2013:

Average production of 9.3Mtpa of iron ore concentrate over a 19.6 years mine life
66% Fe premium product with low levels of alumina, phosphorus and silica
High Fe recovery 82% from conventional gravity spiral processing
Low alumina to silica ratio is ideal as a blending product for steel mills
Location 
The Consolidated Fire Lake North (CFLN) property is located in eastern Québec immediately north of ArcelorMittal's Fire Lake Mine, and 60 km south of Cliffs Natural Resources' Bloom Lake Mine.  It lies within the Fermont Iron Ore District (FIOD), a world-renowned iron-mining camp at the southern end of the Labrador Trough within the geological Grenville Province.  Iron deposits within the sourthern portion of the FIOD were metamorphosed to a coarser grain size during the Grenville Orogeny.
The four current producing mines in the FIOD account for Canada's total iron ore production, which is estimated at 47 million tonnes of iron ore concentrate per year (2013).
Infrastructure
As an active iron ore mining district, the Labrador Trough has an established infrastructure base that includes the following:
Two railways, of which one is a common carrier with available capacity connecting to the Port of Sept-Îles
The Port of Sept-Îles, where a 50Mtpa expansion project is nearing completion at Pointe-Noire to construct a multi-user deep-water dock with two ship loaders and two conveyor lines. The Port of Sept-Îles provides access to European and Asian markets with shipping distances of 5,000 km to Rotterdam, and 22,000 km to Tianjin, China
Two major hydroelectric installations provide electricity at C$0.045/kwh, significantly reducing operating costs
Expansion options are available on the railway to the Port of Sept-Îles
Société ferroviaire du Nord québécois
In October 2014, Champion announced with the Government of Québec and Lac Otelnuk Mining Ltd. (a joint venture between Adriana Resources and Wisco International Resources Development & Investment Limited) a government and industry partnership to advance the Feasibility Study for a new rail line in the Labrador Trough. The partnership is called "La Société ferroviaire du Nord québécois" (SFNQ). All mining companies are open to become partners of the SFNQ.
The SFNQ was formed following the tabling by the Québec government of its 2014-15 budget in June. The Government of Québec set aside a maximum of C$20 million from its Plan Nord Fund to contribute to the study. Among other major economic and wide-reaching social benefits, the new rail infrastructure when developed will enhance the Québec-based mining industry's ability to service world markets with competitive long-term freight tariffs.
Champion has been a strong and longstanding advocate of the multiuser rail and remains committed to supporting the government and the industry in Québec through its participation as an industry partner of the SFNQ.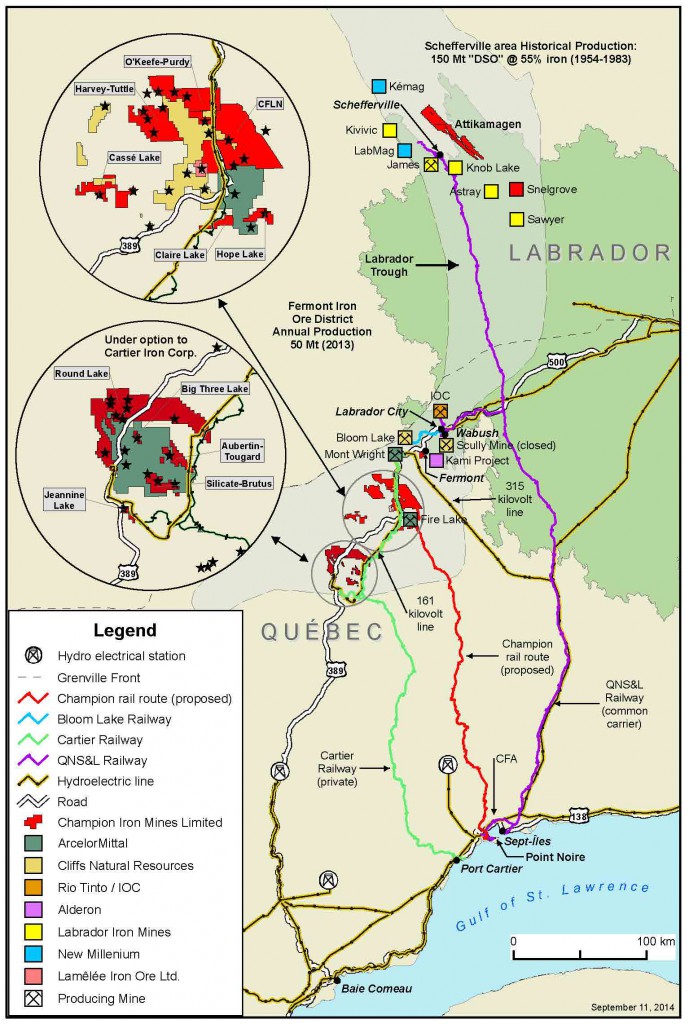 Preliminary Feasibility Study, February 2013
The Preliminary Feasibility Study (PFS) was completed by BBA Inc. and Rail Cantech Inc. in Montréal, Québec, and P&E Mining Consultants Inc. in Brampton, Ontario.
Highlights
Concentrate production rate of 9.3Mtpa at a grade of 66% Fe
Proven and Probable Reserves of 465Mt at 32.4% Fe
Capital cost of C$1.4 billion (excluding railway at full capital cost of C$1.3 billion)
Operating costs of C$44.05/t OR $34.58/t concentrate (excluding C$9.47/t of costs associated with railway capital debt and interest payments)
Pre-tax NPV 8% of C$3.3 billion
Pre-tax IRR of 30.9%
Mine life of 19.6 years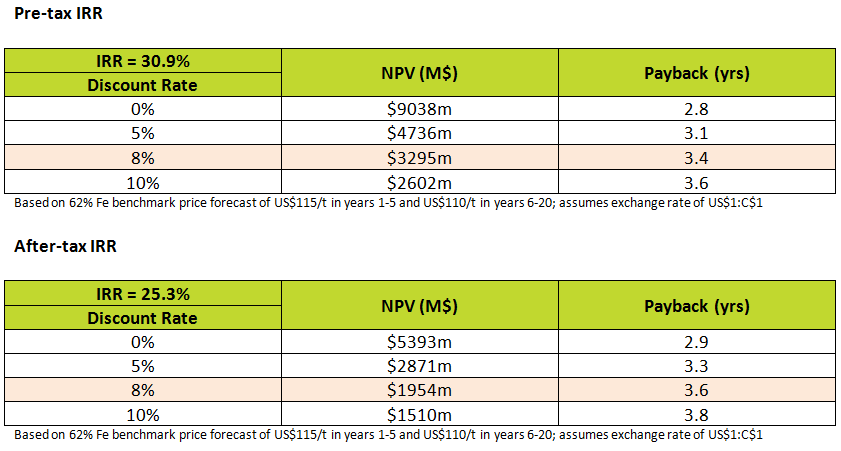 Preliminary Feasibility Study of the West and East Pit Deposits 
Click to view »